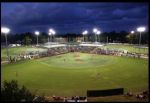 North Frasch Softball Complex - details...
Description: North Frasch Softball Complex has eight softball fields: two grass fields and six turf fields. The facility features stadium quality lights for nights games, covered dugouts, fully fenced fields, bleacher seating and concession stands. The softball complex has been home to the USSSA Girls' Fast Pitch World Series and the LHSAA State High School FastPitch 56 Softball Championships.
Address: 400 Picard Street Sulphur, Louisiana 70663
Field Type: Artificial Turf
Sports Played: Softball
FieldFinder Amenities Rating: 5 stars out of 5
FieldFinder creates its star rating based upon the presence or absence of the amenities enumerated below.
Total for this field is based upon...
Bathrooms: Yes
Concessions: Yes
Field Maintenance: Yes
Covered Dugouts: Yes
Little League Regulation: Yes
Night Games: Yes
Parking: Yes
Playground: Yes
Seating: Yes
Tournaments: Yes

Directions
Your "From" address: