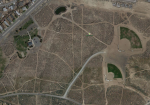 Mayor's Park, Reno, NV - details...
Description: Mayor's Park in Reno, NV, has two ball fields used for baseball and softball. Both fields have skinned infields and grass outfields. One field is a little league regulation diamond wit 60ft bases and fenced outfield. The larger field has 90ft bases and fenced outfield. Both fields are located behind Dorothy McAlinden Park. Take Norton Drive located for access road to ball fields.
Address: 14071 Stead Boulevard Reno, Nevada 85906
unknown Place
(Note: Approximate address based upon geocoding.)
Field Type: Grass
Sports Played: Baseball Softball
FieldFinder Amenities Rating: 4.5 stars out of 5

FieldFinder creates its star rating based upon the presence or absence of the amenities enumerated below.
Total for this field is based upon...
Bathrooms: Yes
Concessions: No
Field Maintenance: Yes
Covered Dugouts: Yes
Little League Regulation: Yes
Night Games: Yes
Parking: Yes
Playground: Yes
Seating: Yes
Tournaments: Yes

Directions
Your "From" address: