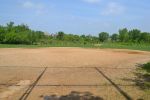 Kissena Corridor Park Field 13. - details...
Description: Kissena Corridor Park Field 13 is located on 56th Road, between 148th Street and 150th Street in Flushing, NY. Field 13 is tucked into a tree lined section of the park and close to Fajardo Field. Search fieldfinder.com for more information about other Kissena Corridor Park fields.
Address: 56th Road Flushing , New York 11355
Field Type: Grass
Sports Played: Baseball Softball
FieldFinder Amenities Rating: 1.5 stars out of 5

FieldFinder creates its star rating based upon the presence or absence of the amenities enumerated below.
Total for this field is based upon...
Bathrooms: Yes
Concessions: No
Field Maintenance: No
Covered Dugouts: No
Little League Regulation: No
Night Games: No
Parking: No
Playground: Yes
Seating: No
Tournaments: Yes

Directions
Your "From" address: