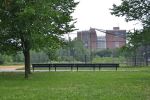 Kissena Corridor Park Field 12 - details...
Description: Field 12 is located on the corner of Main Street and Elder Ave in Flushing, NY. Kissena Corridor Park spans many NYC blocks and has fields located throughout the park between Main Street and Kissena Blvd. Each field is identified by numbers. The nearby address provides an accurate location for this field.
Address: 43-50 Main Street Flushing, New York 11355
(Note: This is an approximate nearby address.)
This field is in the park: Kissena Corridor Park
Main Street and Elder Ave Flushing, New York 11355
Field Type: Grass
Sports Played: Baseball Softball
FieldFinder Amenities Rating: 2 stars out of 5

FieldFinder creates its star rating based upon the presence or absence of the amenities enumerated below.
Total for this field is based upon...
Bathrooms: Yes
Concessions: No
Field Maintenance: No
Covered Dugouts: No
Little League Regulation: No
Night Games: No
Parking: No
Playground: Yes
Seating: Yes
Tournaments: Yes

Directions
Your "From" address: