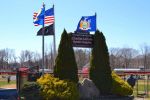 CYA Charles LaRosa Sports Complex - details...
Home Team: Connetquot Youth Association, Chiefs Fastpitch Softball
Description: The Connetquot Youth Association Sports Complex is one of the largest athletic complexes on Long Island. The CYA fields include 11 fields for all levels of youth baseball and softball. The facility is well maintained and the grounds are well cared for by a great crew who take pride in the complex. There are playgrounds, picnic tables and a concession stand at the site.
Address: 530 Easton Street Ronkonkoma, New York 11779
Field Type: Grass
Sports Played: Baseball Softball
FieldFinder Amenities Rating: 4.5 stars out of 5

FieldFinder creates its star rating based upon the presence or absence of the amenities enumerated below.
Total for this field is based upon...
Bathrooms: Yes
Concessions: Yes
Field Maintenance: Yes
Covered Dugouts: Yes
Little League Regulation: Yes
Night Games: No
Parking: Yes
Playground: Yes
Seating: Yes
Tournaments: Yes

Directions
Your "From" address: