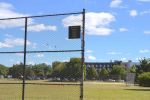 Baisley Pond Park - details...
Description: Baisley Pond Park in South Jamaica, Queens, is home to many recreational sports leagues and programs in Queens. The athletic fields located between the Belt Parkway and Rockaway Boulevard span many acres and include Soccer, Cricket, Baseball, Softball and Football. The park offers many dedicated fields and several large multipurpose field areas for play. Due to the large numbers of organized sports who use the facility permits are required and essential to ensure access to fields. There is ample seating available next to the fields and around the park however spectators should bring chairs. Parking is generally available on the streets next to the park.
Address: 133-51 150th Street South Jamaica, Queens, New York 11436
Field Type: Grass
Sports Played: Baseball Cricket Football Soccer Softball
FieldFinder Amenities Rating: 2.5 stars out of 5

FieldFinder creates its star rating based upon the presence or absence of the amenities enumerated below.
Total for this field is based upon...
Bathrooms: Yes
Concessions: No
Field Maintenance: Yes
Covered Dugouts: No
Little League Regulation: No
Night Games: No
Parking: No
Playground: Yes
Seating: Yes
Tournaments: Yes

Directions
Your "From" address: